Corona discharge type air purifier
J.air air purifier generates purified air, which is both friendly to the environment and the human body with its positive effects in promoting relaxation, sterilizing and deodorizing performance.
A corona discharge has a synergistic effect of high concentration of negative electron and trace amount of ozone. It contributes to the growth and growth of all living things (human beings, animals, plants).
J.air is most suitable for environmental improvements in medical care and nursing facilities.
J.air provides inmates and workers in nursing facilities with most comfortable purified air.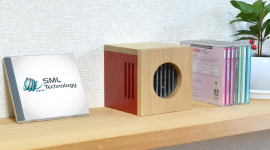 It releases a large quantity of negative electron and a very small amount of ozone.
Negative electron: approx. 10 million electron/cc
The concentration of ozone: 0.03ppm
J.air shows outstanding effect even in ozone concentration which is considerably lower than environmental value.
Antibacterial and deodorizing effects in conjunction optimize the resultant effect up to 10 times higher than that if they are otherwise applied singly.
Compact and excellent design
The J.air is encased in a wooden cubic box, each square surface measuring 12.5cm x 12.5cm, which is about as small as the surface area of a standard CD case front cover.
J.air is a simple design, it fits any room.
Quiet noise, hence superb acoustic reduction effect
J.air operates noiselessly in the daytime, and almost inaudibly even in bedrooms in the nighttime. Furthermore, its DC discharge causes nearly no electromagnetic interference (EMI).
Most effective for substantial reduction of running costs.
No filters are required for use with J.air, and hence it will help you cut consumable costs.
Post-installation maintenance is almost unnecessary.
Our suggestions
Antibacterial effect
Viruses and bacteria are carried along into your rooms, either in airflows or adhered on your clothes outdoors. An air purification solution [for your room] is therefore needed.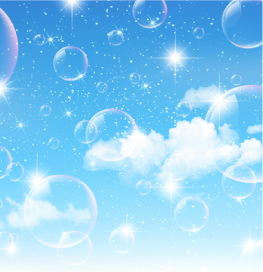 Allergy countermeasure
We are greatly concerned about allergic substances such as ticks and dust adhering to the floor and carpet, pollen, air-pollutant so-called PM 2.5 in toxic smoke, tobacco smoke.
It is especially a major problem for those young children who are painfully suffering from chemical hypersensitivity. An air purification solution is therefore an urgent need.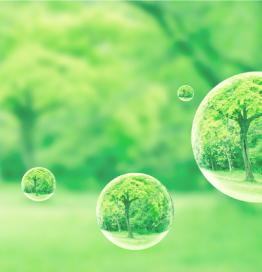 Odor control
The smell of the room, the bad smell attached to the clothes, the smell stuck in the entrance and the corridor, etc., the peculiar smell is various according to the place.
The smell countermeasure of space is necessary.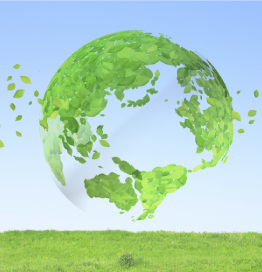 Surprising bacteria elimination effect

J.air greatly enhances the sterilization effect by combining a large amount of negative electron and a trace amount of ozone. J.air can remove various bacteria such as floating bacteria, attached bacteria, Staphylococcus aureus and mold bacteria in a short time. It was found that the combined use of negative electrons (more than 10 million pieces) and low concentration ozone (0.03 ppm) resulted in 10 times the bactericidal effect compared to when they were used separately.
List of ozone effect for bacteria removal
*Published a research paper at Mitsubishi Electric Research Institute
Effect
Object
The removal of food poisoning bacteria
Bacteria elimination for such as Escherichia coli / Bacillus cereus / Salmonella / The enteritis vibrio
The prevention of the hospital infection
Elimination of staphylococcus aureus such as the MRSA
Elimination of influenza virus
J.air has the effect of elimination virus which is the cause of colds and influenza.
It has been proven that H1N1 influenza virus is inactivated.
O-157 / SARS
Ozone can eliminate floating bacteria and falling bacteria wafting in the air. Therefore, bacteriostasis and infected prevention can be expected against pathogenic E. coli (O-157) and new type pneumonia (SARS).
Prevention of the mold
Strong disinfecting power of ozone exerts mildew-proof effect by killing fungus generated in floor, wall, bathroom etc. You can also suppress slime and darkening.
■It greatly enhances the sterilization effect by combining a large amount of negative electron and a trace amount of ozone.
⇒Negative electron have the effect of suppressing the source of bacteria, therefore they are effective even at low concentrations of ozone.
Surprising dust-collection effect

Surprising deodorizing effect

Compared to the fact that the fragrance changes the malodor with another smell, J.air decomposes the source of odor by ozone, so higher effect can be obtained.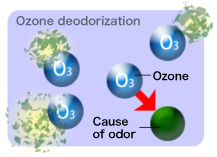 Ozone effect list
Deodorize
J.air deodorizes an unpleasant smell such as toilet, mold, body odor, tobacco, new housing materials. Among them, the most troublesome toilet odor is ammonia, hydrogen sulfide, methyl mercaptan, trimethyl amine, and so on.
Because these odorous substances react very quickly with oxygen atoms, they are decomposed at the molecular level by the strong oxidizing power of ozone and deodorized.
It also has an effect on the removal of odors stained by walls, ceilings, floors, curtains, cushions and so on.
Sick house syndrome
If it is harmful formaldehyde due to sick house syndrome, it is broken down into formic acid and oxygen by ozone.
Formic acid is a substance with a pungent odor, but it is further oxidized by ozone and changes into carbonic acid, so it has an effect on formaldehyde as well as deodorant action.
■It exerts amazing deodorizing ability even with low concentration ozone by combination with a large amount of negative electron.
⇒Because negative electron have the effect of suppressing the source of odor, they are effective even at low concentrations of ozone.
Difference between deodorizing system of J.air and general air purifier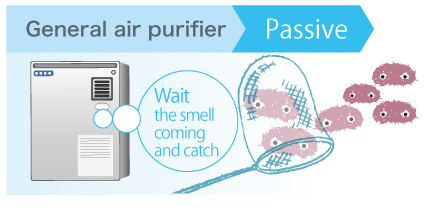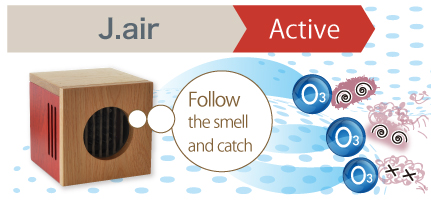 | category | theory |
| --- | --- |
| General air purifier | It adsorbs air containing odor material into suction filter. |
| J.air | J.air destroys and decomposes odorous substances from the source by ozone oxidation power. |
| Deodorant spray | Deodorant spray covers the odorous substance with a liquid medicine and cheats a strange smell. |
category
feature
General air purifier
Although odorous substances (particles) taken into the air purifier can be removed, odors adhering to the floor or curtain can not be removed. Furthermore, odorous substances (gas) attached to the filter leak over time.
J.air
J.air removes odorous substances drifting and odor substances adhering to carpets, walls, air conditioners and so on.
Once the decomposed odor substances are not resume.
Deodorant spray
Because the smell itself does not disappear, unpleasant smell revives over time.
In addition, the surfactant contained in the solution induces accumulation contamination.
Experimental results by J.air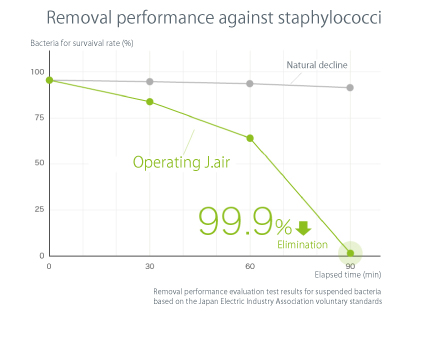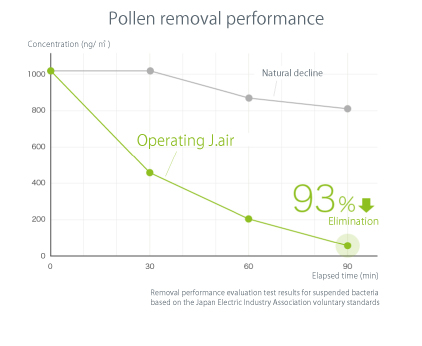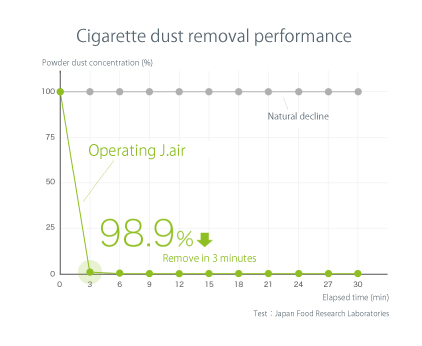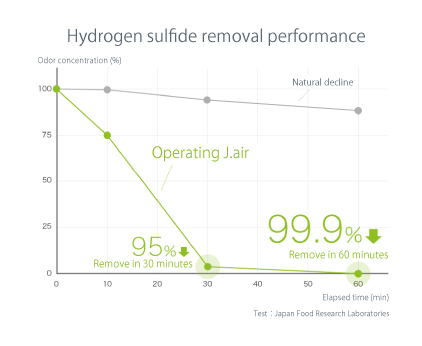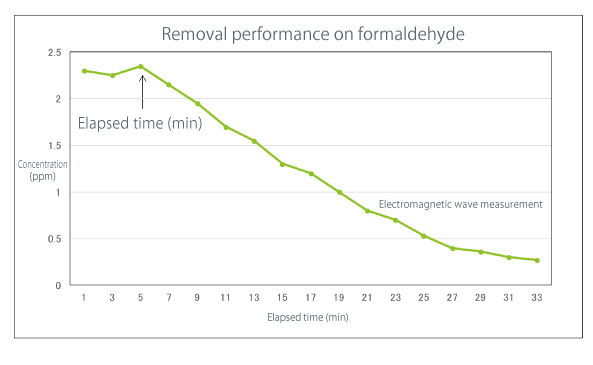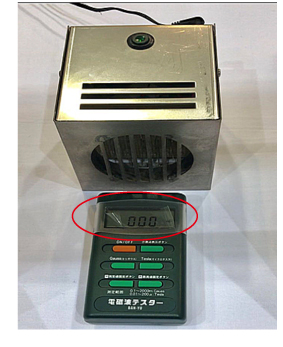 Product Specification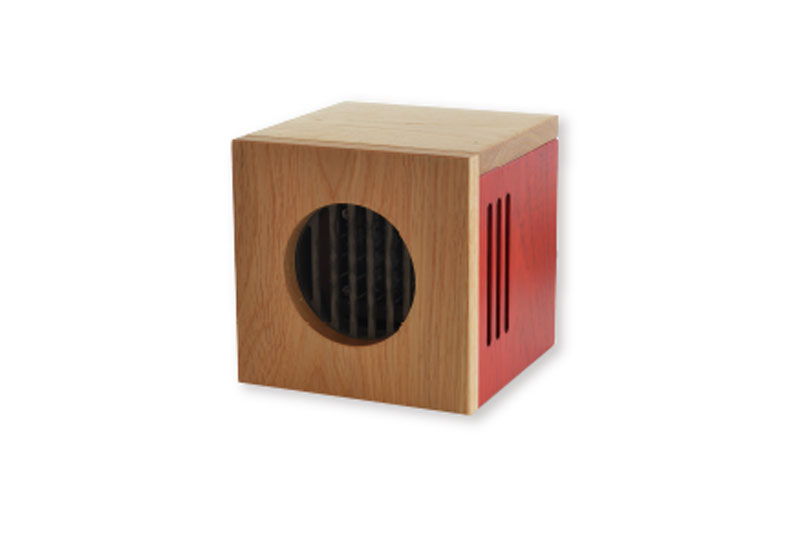 | | |
| --- | --- |
| ■Applicable area | 6.18~38.71㎡ (There are differences depending on the environment) |
| ■Dust collection system | Ion system |
| ■Discharge method | Corona discharge |
| ■Minus ion amount | 10million/cc over |
| ■Ozone concentration | 0.03ppm (Below the environmental value) |
| ■Power-supply voltage | AC100V~240V 50/60Hz |
| ■Power consumption | 8W |
| ■Size | H:125mm x W:125mm x D:125mm 1,300g |
| ■Body material | Ion electrode titanium Other stainless steel |
| ■Cover material | Wooden |